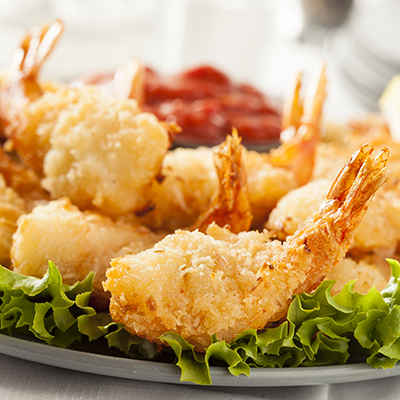 Best Side Dishes to Pair With Coconut Shrimp
09.15.2022
•

Apps & Sides

Don't be shellfish, tell your friends about our (my) personal favorite deal this week… Coconut Shrimp🍤 Lucky for you, our shrimp comes breaded and ready to go, all you need to do is heat it up via your preferred method. But while our coconut shrimp tastes oh so delectable, it's hardly a complete meal. Pair it with a few complementary sides for a true seafood feast. Check out some of the sides you can grab in our store while you're picking up your shrimp!
1. French Fries
You can never go wrong with a classic side dish. Luckily, we've got you covered here! Straight cut, curly, waffle, and shoelace. We've got it all baby, come in and grab a bag while you're picking up your shrimp!
2. Au Gratin Potatoes or Broccoli
Enough to pass! Our Au Gratin platters come ready to bake. Just pop it in the oven and you've got yourself a complete meal!
3. Steamed Veggies
Nothing makes you feel better than eating a hot and healthy meal. Keep it fit with pairing our sweet and crunchy shrimp with some hot steamed veggies! We have plenty of options to choose from: Broccoli, peas, asparagus, mushrooms, carrots, and so many combinations you'll be all set!
4. Twice Baked Potatoes
Another easy dish! We have two highly recommended flavors even the pickiest eaters will love. Made with real ingredients and ready to heat and eat😋
5. Pasta
That sweet and crunchy shrimp will pair perfectly with a mild and creamy sauce. Try our Mac and Cheese! These work so well together because it's filling and balanced. We also have lasagna and green bean and mushroom casserole!
6. Something Sweet
Of course you can't skip dessert! Whatever you choose to pair, you're gonna need to top off this top notch meal with that delectable something. Believe it or not, we can do that too! We have an awesome selection of cookies that I highly recommend. We also have cheesecake and brownies!